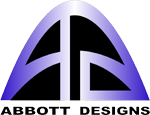 Welcome to Abbott Designs Limited
Company Profile
Abbott Designs Ltd is an energetic company, offering web, graphic, and digital design services to clients throughout the UK.
Services
Corporate Identities
Abbott Designs develops company logos and colour schemes for use in digital and print media, to ensure your products stand out from the crowd.
Websites and Web design
In a multimedia world, your presence on the internet has never been more important. We offer bespoke HTML and FLASH based websites, rich in audio-visual content and downloadable resources. Our service also includes modernisation and revision of existing web content and prevision for future maintenance
Graphic Design
Design projects can be undertaken on Mac and Windows based systems. Using modern and traditional techniques to make your design ideas a reality. Designs can be finalised in a wide range or formats for print or internet use.
Digital Photography
Experienced in both social and commercial photography we ensure people see you at your best. With image manipulation we can also get the best out of your photos. High quality images can be delivered in a range of formats including prints, email cd and dvd.
Image Restoration
If your photos have been corrupted, damaged or certain aspects require improving or modifying, we have over 8 years experience in image manipulation, to ensure your photos are picture perfect. Even old prints can get a new lease of life, as torn, stained and faded photos can be scanned, repaired and printed like new.
2D/3D Modelling and Animation
2D and 3D modelling and animation is a large part of modern print and web design. We can bring your graphics and ideas to life. We can also model and animate products for advertising, and to aid future development and understanding.
Audio Video Editing
Abbott Designs offers full audio video editing and mastering. Turning raw footage into professional advertising and DVDs. Video can be produced for the web, portable media players and mobile phones. Corporate advertising and instructional videos can also be re-edited to include the latest products and best practice information.
DVD Mastering
Don't let all your photos and video degrade on old formats. Abbott Designs can restore your media and master it to a simple DVD.
Contact
T: 01274 882 633
M: 07981 631 402